Vocal Recording Pro – Acoustic Panel Package
10'lu Vokal Kayıt Panel Paketi
Cargo Belongs to Buyer
It will be shipped on 03 December Sunday at the latest
Our online payment option is not active. You can make your payments by money order or Eft, by contacting our head office.
1,930.00 $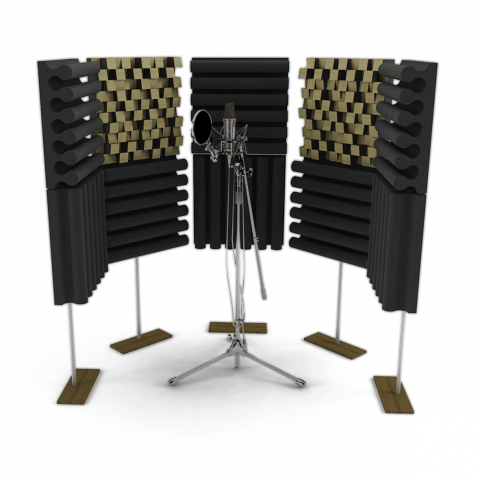 Vocal Recording Pro – Acoustic Panel Set: Superior Acoustic Solution for Professional Sound Recording
The Vocal Recording Pro – Acoustic Panel Set is a meticulously designed, portable, and innovative package for the sound recording needs of professionals. The package includes 8 "High Wave" acoustic panels, 2 "Mosaic Diffuser Pro", and 5 triple-step footrests.
This unique package allows you to perform high-quality sound recording in a room or any space. More importantly, thanks to its detachable and adjustable design, it surpasses the limitations of portable recording studios and can be easily carried anywhere you want.
Get Vibrant and Full-bodied Voice Recordings with Vocal Recording Pro
The Vocal Recording Pro Acoustic Panel Set is designed for voice recordings to be more vibrant and full-bodied. The unique acoustic panels and diffusers in the package ensure a smooth distribution of sound, thereby improving sound quality.
The Vocal Recording Pro features an adjustable mechanism that allows simultaneous sound recording by multiple individuals. This facilitates the creation of various sound effects and vocal layers in your projects.
Superior Material Quality and Flexible Design
The Vocal Recording Pro – Acoustic Panel Set is manufactured from special materials to improve sound quality and increase the acoustic performance of your studio environment. Thanks to its lightweight and durable materials, you can mount these panels directly on the wall or hang them from the ceiling.
Ideal Solution for Professional Recording Environments
The Vocal Recording Pro – Acoustic Panel Set is designed to reduce external noise during sound recording and improve the acoustic environment of the studio. This package filters unwanted sounds and provides high-quality sound recording.
With its user-friendly and flexible design, the Vocal Recording Pro set is a perfect choice for anyone who wants to achieve higher performance and aesthetic appearance while recording sound. Whether you want to reduce external noise or improve sound quality, this acoustic panel set is designed to meet the needs of your studio.
Product Details
Width
Depth
Height
Weight
Color
Material
Flammability class
Cargo Volume
Cargo Weight
Areas of usage
Control Room

Recording Room

Home Studio

Broadcast Studio

Post & Production Studio

Vocal Booth

Drum Booth

Home Theater

Hi-Fi

Meeting Room

Audiotorium

Office