Quadro Diffuser Pro – Acoustic Panel
Geliştirilmiş QRD Diffuser
Cargo Belongs to Buyer
It will be shipped on 03 December Sunday at the latest
Our online payment option is not active. You can make your payments by money order or Eft, by contacting our head office.
465.00 $
232.50 $
%50 DISCOUNT
232.50 $ Profit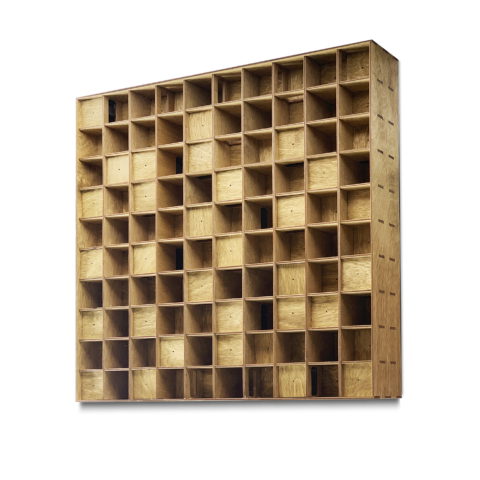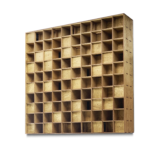 QUADRO Diffuser PRO: Innovative Design for Next-Generation Acoustic Performance
QUADRO Diffuser PRO is an acoustic panel product designed and developed by Lava Acoustics, featuring Helmholtz resonator properties and addressing a wide frequency range. This product, which is particularly 60×60 cm in size and 10 cm in depth, has a design with different chamber volumes inside.
Multifunctional Helmholtz Resonator Design
The openings in each square act as a Helmholtz resonator, offering superior performance in sound absorption and distribution. The side openings in the chambers increase sound absorption, making the product multifunctional. Despite its wooden outer surface, thanks to special design and R&D studies, it offers both absorptive and diffusive acoustic performance in a wide range, starting to linearly increase from 63 Hz, stabilizing at C|(αw) = 1.00 at 400-500 Hz, and linearly decreasing up to 2000 Hz. With these features, QUADRO Diffuser PRO is a product preferred by professionals working in the acoustic field.
High-Quality Material and Content
Inside the QUADRO Diffuser PRO, there is polyurethane foam, which completely fills the panel in layers of 20 mm thickness. This foam enhances the acoustic performance by making sound absorption and distribution more effective.
Professional Acoustic Solution with QUADRO Diffuser PRO
Thanks to its innovative design, high-quality materials, and multifunctional Helmholtz resonator features, QUADRO Diffuser PRO is an ideal choice to improve the acoustic environment of your living and working spaces. Whether you want to reduce external noise, increase sound quality, or add aesthetic value to your space, QUADRO Diffuser PRO is designed to meet your and your living spaces' needs.
Product Details
Width
Depth
Height
Weight
Color
Material
Flammability class
Absorption range
NRC
Cargo Volume
Cargo Weight
Areas of usage
Control Room

Recording Room

Home Studio

Broadcast Studio

Post & Production Studio

Vocal Booth

Drum Booth

Home Theater

Hi-Fi

Meeting Room

Audiotorium

Office
Performance
Quadro Diffuser Pro – Acoustic Panel Absorption Coefficient