Lava Akustik – Smart Speaker Stands
Tekli yükseklik ayarlı Speaker Standı
Free Shipment
It will be shipped on 04 October Wednesday at the latest
Our online payment option is not active. You can make your payments by money order or Eft, by contacting our head office.
1,150.00 $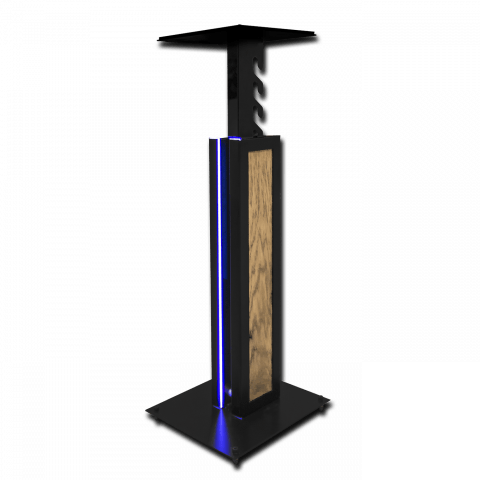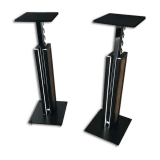 Lava Acoustic Smart Speaker Stands: Single Height Adjustable Feature
The Lava Acoustic Speaker Stands are a unique product featuring a beautiful combination of wood and metal, and a special linear LED lighting for an elegant look. With manually adjustable height features, these stands can rise up to 6 cm in 5 steps, providing an ideal base for your speakers. Sold individually, Lava Acoustic Speaker Stands can also be produced on special orders from customers.
Enhance the Look and Performance of Your Sound System with Lava Acoustic Speaker Stands
Lava Acoustic Speaker Stands are specifically designed to provide an aesthetic and functional platform for your speakers. Each stand operates on a 12V adapter with ice-white LED lighting, supporting your speaker both aesthetically and functionally. This ensures that your sound system obtains both an appealing look and improved performance.
With the Lava Acoustic Speaker Stands allowing you to adjust your speakers to the most suitable height, they enhance sound quality while also adding a stylish touch to your living space. Lava Acoustic's high-performance speaker stands are an ideal choice for those looking to improve their sound systems and aesthetically upgrade their living spaces.
Unique Materials and Unique Design
Lava Acoustic Speaker Stands are made from special materials chosen to increase sound resonance and improve sound quality. These stands, made from a combination of wood and metal, are durable and lightweight, easily movable and adjustable to desired positions. The size of the platform on the stands is 28×28 cm, which means they have a wide area that can support speakers of various sizes.
Improving Sound Quality and Adding Aesthetic Value
Using height-adjustable speaker stands allows the speakers to disseminate their sound more effectively, significantly improving sound quality while offering an aesthetic look. Lava Acoustic Speaker Stands, with their elegant design, high-quality materials, and user-friendly features, provide an ideal solution for enhancing the look and performance of sound systems in all types of living spaces. These stands are a perfect choice for anyone wanting to raise their speakers higher, improve sound quality, and add an aesthetic touch to their living space.
Product Details
Width
Depth
Height
Weight
Color
Material
Flammability class
Cargo Volume
Cargo Weight
Areas of usage
Control Room

Recording Room

Home Studio

Broadcast Studio

Post & Production Studio

Vocal Booth

Drum Booth

Home Theater

Hi-Fi

Meeting Room

Audiotorium

Office