Guitar Amp Pro – Acoustic Panel Package
10-piece guitar amp package
Cargo Belongs to Buyer
It will be shipped on 14 December Thursday at the latest
Our online payment option is not active. You can make your payments by money order or Eft, by contacting our head office.
2,000.00 $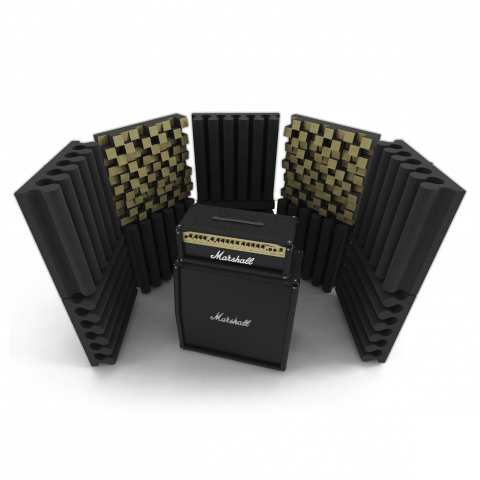 Guitar Amp Pro – Acoustic Panel Package: The Choice of Professionals
The Guitar Amp Pro Acoustic Panel Package is a favorite among professionals, offering a first-class acoustic solution in an easily transportable form for large amplifiers. This package comes with 8 "High Wave" and 2 "Mosaic Diffuser Pro" acoustic panels, along with 5 two-tiered pedestals.
Universal Acoustic Adjustment with Guitar Amp Pro
The Guitar Amp Pro Acoustic Panel Package provides a high-performance acoustic solution and simplifies even the most complex room acoustic arrangements. Thanks to its easy-to-assemble and disassemble feature, this package can be easily moved and used not only within a room but also in other venues.
This package improves acoustic quality while providing significant sound insulation. Especially the maximum absorption provided by "High Wave" panels at low-frequency (BASS) sounds largely eliminates low-frequency echoes that may occur during recording. This ensures professional recordings are carried out cleanly and with high quality.
Flawless Acoustic Experience with Mosaic Diffuser Pro
The "Mosaic Diffuser Pro" panels included in the package further enhance system performance and perfect the acoustic experience. Thanks to these special panels, the sound quality and overall acoustic environment in your living and working spaces significantly improve.
Durable and Long-lasting Solution
The Guitar Amp Pro Acoustic Panel Package offers a durable and long-lasting acoustic solution. Prepared with high-quality materials, this package can be used for many years. With its practicality and high performance provided, this package is the choice of professional musicians and sound technicians.
Product Details
Width
Depth
Height
Weight
Color
Material
Flammability class
Cargo Volume
Cargo Weight
Areas of usage
Control Room

Recording Room

Home Studio

Broadcast Studio

Post & Production Studio

Drum Booth

Home Theater

Hi-Fi

Meeting Room

Audiotorium

Office