Guitar Amp Pro – Acoustic Panel Package
10-piece guitar amp package
Cargo Belongs to Buyer
It will be shipped on 05 June Monday at the latest
Our online payment option is not active. You can make your payments by money order or Eft, by contacting our head office.
2,000.00 $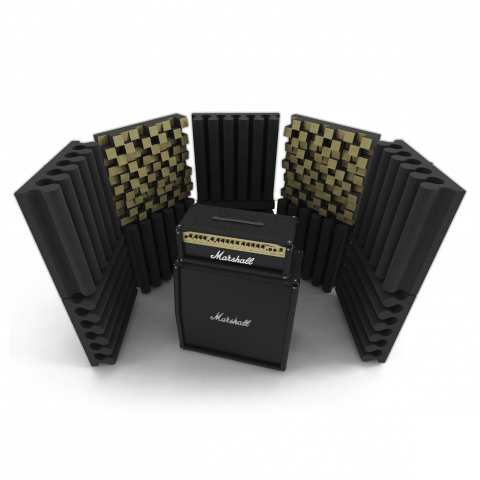 The Acoustic "Guitar Amp Pro Pack" is indispensable for professionals. The package includes 8 "High Wave", 2 "Mosaic Diffuser Pro" acoustic panels with 5 stands.
The package, which can be easily disassembled and installed like its brother, can be easily moved to other places as well as in the room. Preferred for larger amps, this package saves extensive room acoustic arrangements.
The package provides acoustics during recording, as well as helps sound insulation in a serious way.
Due to the maximum absorption of the panels, especially in BASS (low frequency) sounds, it destroys the large proportion of their low-frequency echoes that can occur during recording. The presence of the "Mosaic Diffuser Pro" product in the package makes this system perfect.
Product Details
Width
Depth
Height
Weight
Color
Material
Flammability class
Cargo Volume
Cargo Weight
Areas of usage
Control Room

Recording Room

Home Studio

Broadcast Studio

Post & Production Studio

Drum Booth

Home Theater

Hi-Fi

Meeting Room

Audiotorium

Office